Football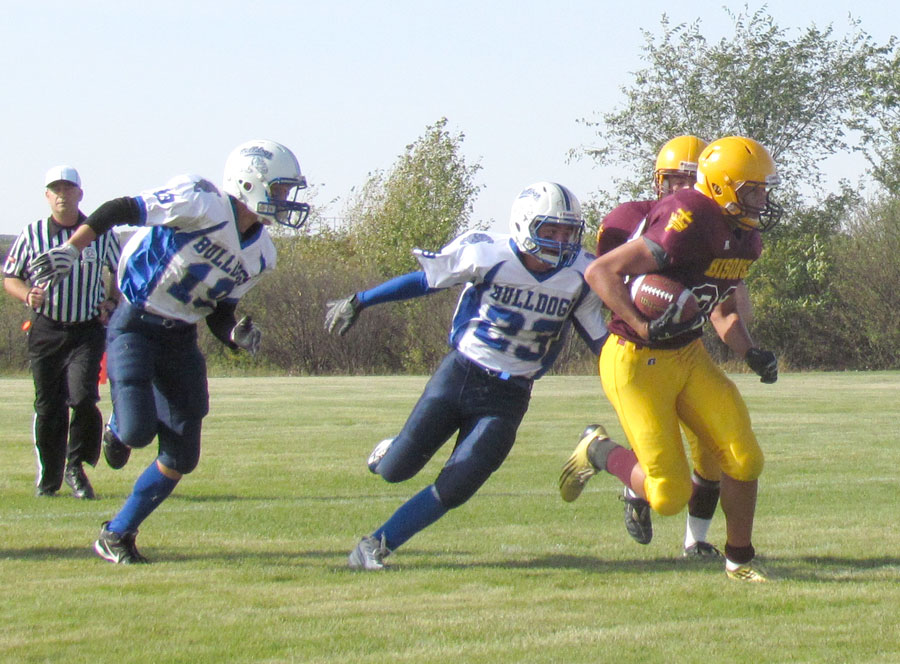 Established in 1992, the LCBI Bisons Football Program maintains a strong position in Saskatchewan High School Athletics. Art Hundeby spearheaded the launch of the football program, guided by Coach Phil Guebert who was fresh off a 1990 Vanier Cup Championship with the University of Saskatchewan Huskies. The Bisons play in the six-man* category in Saskatchewan's high school football league.
The Bisons Football Team garnered success early on, advancing to the Provincial Quarter Finals in only its second year of operation. Since the program's inception, the Bisons have enjoyed many productive seasons, including winning the Provincial Championship in 1998 and 2001. The Bisons have advanced to the Provincial Semi Finals on six different occasions.
To this day, the team is coached by Mr. Guebert, a Certified Level-Two Coach. Bryan Akre has served as Assistant Coach for the past 12 years. The Bisons play in Conference #3 which includes schools in Loreburn/Kenaston, Central Butte, Hanley, Gull Lake and Davidson. Each year, each team in the Conference plays one exhibition game followed by a five-game season and then playoffs. The top four teams in the Conference make the playoffs.
Each year, one Saskatchewan team hosts the Can Am Bowl, pitting Saskatchewan all-stars against those from the United States. LCBI hosted this event in 1999.
* What is six-man football? Six-man football was established in the 1950s for schools in Saskatchewan with smaller enrollments. Until 2010, Saskatchewan was the only province to offer this brand of football. Currently, other provinces are seeing the advantages of the six-man game and starting their own programs and leagues. The six-man version is the "same football" as you see on TV, but with fewer players on a smaller field (i.e., 100 yards long X 40 yards wide). Offensive formations must have three players on the line of scrimmage. The middle player is ineligible to catch a pass. The formations are wide and varied, from a traditional "closed set formation" to a "spread formation." The six-man style of game puts a premium on versatility and athleticism.